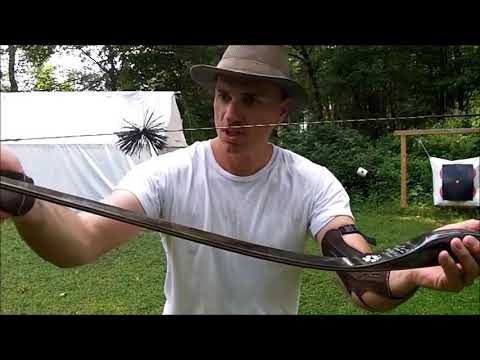 Test Shooting at White Wolf Archery
Video will open in a new window
Using the eBay App? Paste link into a browser window:
[isdntekvideo]
Long Hunter
This bow is a Long Hunter longbow by White Wolf Custom Bows. It's a 64" right-handed bow, 57 lbs at 28". The riser color is Deep Woods and is made with coreflex super action wood. The limbs are made from ash in the color neutral under clear glass
The Long Hunter has a very typical longbow riser, light in the hand with a slight pistol grip. The limbs are a reflex-deflex design which makes the bow smooth to draw with an equally effortless release. It's cut 1/8" past center and the limbs are fairly far forward of the riser when the bow is at rest, giving it a very good early string weight. It has a gentle hum to it, with absolutely no bow shock. Arrows fly off this bow with great authority, making it superb for hunting or target and 3D.
The limb tip overlays are coreflex super action wood to make it fast flight string ready. The bow comes with a calf hair rest and a custom fast flight Flemish twist string with silencers. All you need are arrows to match. It also comes with a high satin finish.
Our bowyer, Tony Semenuk, stands behind his work. If you have any questions please feel free to contact him .